TDS Fleet Management Software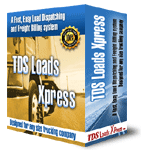 TDS Fleet System: TDS Fleet System: The Fleet system includes Dispatching, Freight Billing, Accounting, Driver Settlements, Driver Log auditing, IFTA fueltax, Vehicle Maintenance, Driver Human Resource with Alcohol and Drug Testing. The Fleet System is designed for any size trucking company and includes a complete package of software designed to manage all the needs of your transportation company.
Great for Brokers, LTL, Full Truck, Reefers, Flats, Vans, Container Haulers, Bulk Haulers, Grain Haulers and more.
The TDS Fleet System can help your company make money now! Here's how:
| | |
| --- | --- |
| By providing "Real Time" costs and revenue on loads. | Know exactly what your revenue will be when the driver leaves to pickup the load. |
| Update the load as the driver calls in with on the road expenses, including fuel, maintenance and other costs. | Updates Revenue and provides a Revenue margin by load. |
| Drivers and Truck costs to high? Keep Daily Revenue Reports on both drivers and trucks. | Determine in "Real Time" if hauling certain loads are more profitable than others. |
| Improves Cash Flow. | Helps reduce aging Accounts Receivables. |
| Customize your freight bills. Improve Company image. | Dispatch and Bill up to 99 stop offs and pickups per load. |
| Dispatch, track and bill any type of freight. | Bill by weight, flat rate, piece rate, mileage, bulk rate, tonnage and by the bushel. |
| Calculates Revenue by load and by customer. | All Windows versions. |